As a Sub-Zero and Wolf Factory Certified Service provider, we offer the assurance you need with true worry-free service at fair, competitive rates. Our technicians are professionals; handpicked, rigorously screened, and trained by Sub-Zero and Wolf. Our demanding performance standards cover product maintenance, diagnostics, repair, and customer relations. This includes our commitment to providing white-glove service while in your home.
Product Registration
Have you activated your Sub-Zero and Wolf Warranty?
Register Now
Owner Satisfaction
Get the most out of your Sub-Zero and Wolf appliances.
Find out how
Request Service
Tri-City Appliance technicians are fluent in every Sub-Zero and Wolf model available.
Request service here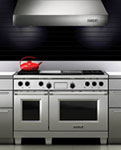 Preventive Maintenance
Our preventative maintenance centers around Sub-Zero's twice yearly condenser cleaning recommendation
More information